---
Your bike as camera support with Joby Gorillapod
Wednesday, Dec 04 2013, 18:18
Film, Lumix GF6, Photo, Travel
Permalink
Always take a
Joby Gorillapod
with you. If you forget your big tripod, you can always use your bike for support!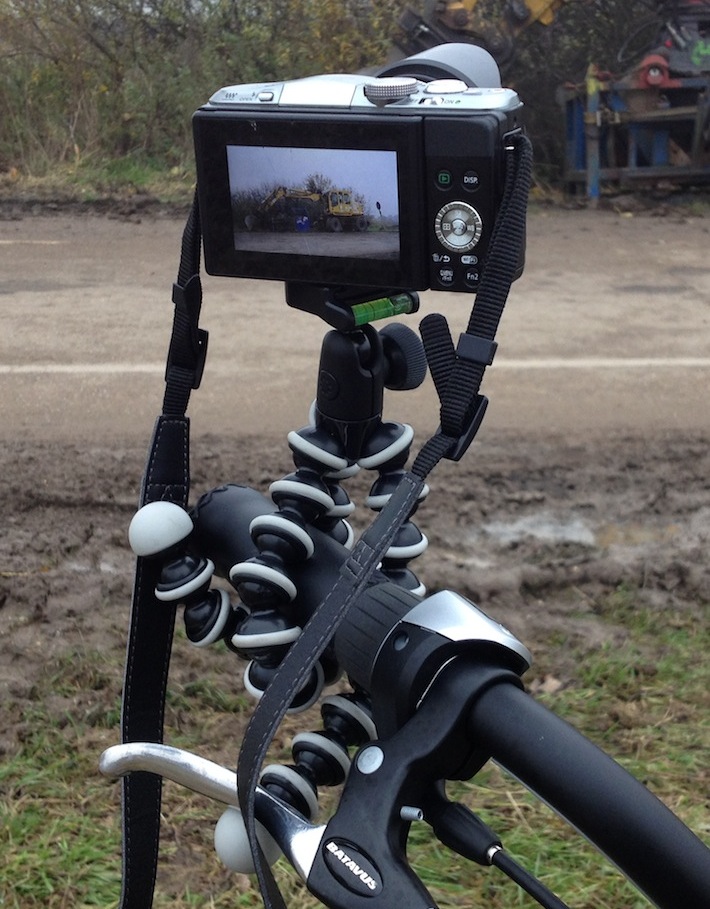 Adobe Photoshop Elements 10 Editor and Mac OS Lion 10.7
Thursday, Jun 21 2012, 10:16
Adobe, Apple, Film, Mac OS X
Permalink
Yesterday I purchased Adobe Photoshop Elements 10 Editor in the Mac App Store, for my wife's Mac. Of course I installed it on my Mac too and the application seems to runs just fine, but I could not save any image I edited. Huh!? When I tried to save edits made to an existing image, PSE10 constantly showed messages about disk errors (-38) and problems writing to the scratch disk and then froze itself somehow.
Well, I also have Photoshop CS5 installed and with that application I have no problems at all, and it uses the same scratch disk: my internal HD. There is no other disk and that disk is ok – which means that the error from PSE10 has in fact nothing to do with the disk. Therefore, the error must have something to do with the file(s).
My gut feelings started to probe all information I have about files under Mac OS 10.7.4, and suddenly a thought popped up that it might have to do with the new OS X Lion's file locking 'feature'. That somehow PSE10 does not use Apple's file I/O routines or this version of PSE10 (v10.0) doesn't know about this 'feature' in Mac OS X Lion. The images I edited were from 30.5.2012 and when I opened them in Preview, the word 'Locked' showed in the titlebar.
I googled shortly and found a way to turn this 'file locking' off, and it is really very simple. But the setting is not where I would expect it to be, it's hidden in the 'Time Machine'-preferences' Advanced settings, whereas I would rather search it under 'Security'-preferences. At Mac|Life I found a short how-to:
How To Disable Mac OS X File Locking
After turning it off, my Mac began to act strange - a few apps started to crash, others suddenly hung. So, hop, restart that Mac! Luckily that solved it all and what is more, since I turned it off, PSE10 works without problems - no more 'disk'-errors. And ... I have about a few 100MB more free memory and the free memory remains stable, it doesn't get 'eaten' anymore! That might be subjective, but the numbers don't lie.
I can really recommend PSE10. It's fantastic! Thumbs up Adobe! Features from applications like iResizer, inPaint and others are all built-in into PSE10! Time to clean up the application folder!
Now if there only would be Adobe Illustrator Elements for that price.... I would not be needing CS5 anymore.
Fit an Apple TV 1 with a brand new 160GB disk
Monday, Apr 02 2012, 10:09
Apple, AppleTV, Film, video
Permalink
After Googling for a day I finally found everything I needed to get my Apple TV 1 (with no disk) working with a brand new Samsung HM160HC PATA disk. The whole process is described in '
New disk in Apple TV1
'.
De Grote Dikke Beer en De Draaimolen
Wednesday, Jan 18 2012, 11:53
Film
Permalink
Naar aanleiding van verzoeken op
Recensiekoning.nl
en
KinderTV.net
, hierbij de links naar de films De Grote Dikke Beer Vertelt en De Draaimolen, welke wij voor onze kinderen bewaard hebben door de van televisie opgenomen programma's op VHS-cassette naar DVD over te zetten en de DVDs dan weer op de computer te importeren.
DVD 1: De Grote Dikke Beer Vertelt
DVD 2: De Draaimolen
De films zijn in H264 (.m4v) formaat en kunnen dus:
zó in iTunes worden geïmporteerd en via Homesharing worden bekeken met de Apple TV 2, iPad, iPhone of iPod
direct op je iPad, iPod, iPhone of Apple TV 1 worden gecopieerd en bekeken.
Update 10-02-2012:

Helaas zijn de kosten voor het extra dataverkeer iets aan de hoge kant en dus bied ik de films alleen nog op DVD aan. Stuur me een mailtje via de 'Contact me'-link onderaan de pagina.
Autorodeo Wilp-Achterhoek 2003
Monday, May 30 2011, 09:22
Auto, Event, Film, Photo, Vacation, video
Permalink

Tijdens het laden in iPhoto van m'n gedigitaliseerde foto's kwam ik deze serie tegen. Even een diashowtje met iPhoto gemaakt met een toepasselijk muziekje erbij... en hop, zó heb je een leuk filmpje.
Tractorpulling Klarenbeek 2002
Sunday, May 01 2011, 11:53
Auto, Event, Film, Vacation, video
Permalink
Ik ben bezig al mijn oude, nu gedigitaliseerde, foto's in iPhoto te laden en te categoriseren. Het leuke is dat je met een paar muisklikken een diashow creëert en deze als film kan exporteren. Dit is de eerste test - een 360p filmpje van een diashowtje van foto's van een trekkertrek evenement uit 2002 in Klarenbeek.


My Cat Ate My Croissants
Sunday, Nov 21 2010, 20:41
Film, video
Permalink
I was just bringing the first load of groceries inside and then our cat took his chance ... and succeeded ;-)
(
direct link to YouTube
in case the movie doesn't load properly)