GPS on my iPhone
Tuesday, Dec 29 2009, 00:11
Apple, Geodata, iPhone
Permalink
There are a lot of discussions going on about the GPS accuracy on the iPhone. So I started a short test. I tried to get my home position every day and make a screen shot of it - it became 11 days because the error repeats itself on certain days. And I say now that it is not the iPhone (or maybe partly) but that it are those satellites that somehow send wrong signals, because every monday I am here, on every tuesday I am there, etc. So there's a pattern in the positions I am at through the week, although I always was at my house when I took the following screen shots.
I wrote the date in the upper right corner, you can see the time at the top, and put a circle around the spot where my house is. The blue dot marks the GPS spot.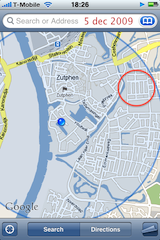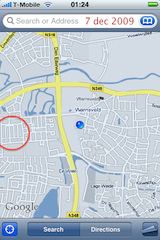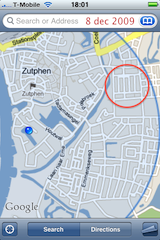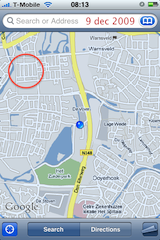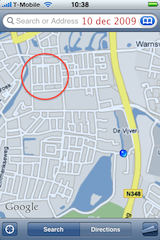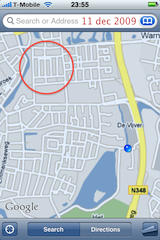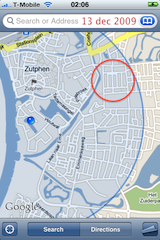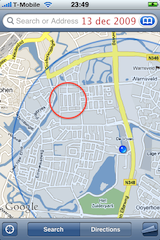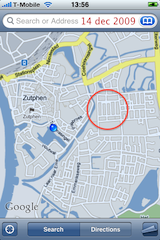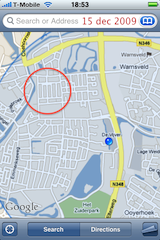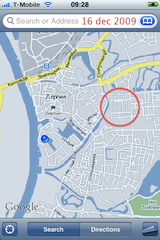 So ... either one of these blue dots should be exactly at my house and the iPhone is very wrong, or all these blue positions are wrong and the satellites do something weird or are too far away from this city.
Update August 2010: since all iPhone3G updates and now my iPhone4, GPS works fine again.
Wok Maxis
Saturday, Dec 26 2009, 10:33
Food, Restaurant, Vacation
Permalink
| | |
| --- | --- |
| We hebben op eerste kerstdag bij Wok Maxis gegeten. Dat was voor mijn vrouw en mij de eerste keer en zeker voor herhaling vatbaar. Ze hebben daar echt een fantastisch assortiment - je kunt daar echt uren doorbrengen met het lekkerste eten. | |
| | |
Nu niet meer zeuren over films downloaden!
Sunday, Dec 20 2009, 22:23
Film
Permalink
Na onderstaand bericht over het toegenomen bioscoopbezoek kunnen de klagers over het downloaden van films zich weer in hun schulp terugtrekken tot er opnieuw iets te mekkeren valt: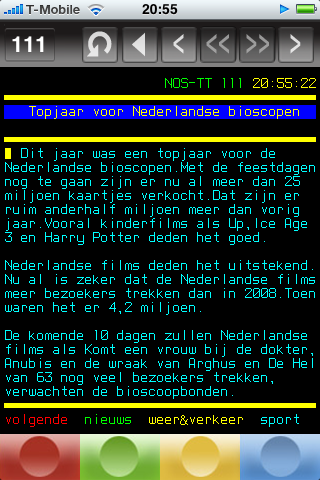 De Cubaan 'Barrio Cubano'
Thursday, Dec 10 2009, 20:33
Food, Restaurant, Zutphen
Permalink
Vandaag bij het Cubaans restaurant '
Barrio Cubano
' gegeten. Ofschoon Nederland tamelijk duur is om uit eten te gaan, zat de zaak toch redelijk vol - en dat voor een donderdagavond die bij ons in Zutphen niet eens koopavond is! Mijn vrouw had een 'Varkenshaas met champignons' en ik een 'Trio van vis op verse groenten' en het was allebei erg lekker. Samen met een halve liter rode huiswijn kostte dit etentje €48,25. In Duitsland ben ik voor een vergelijkbaar gerecht rond de €35,- kwijt (tot nu toe). De ambiance is erg aangenaam en ondanks dat je om je heen iedereen hoort praten, kan je toch je partner en jezelf nog goed horen. Dat van de andere gasten is meer een gezellig geroezemoes.

Google Maps and Geocoding
Sunday, Dec 06 2009, 21:47
Geodata, programming, software
Permalink
Here's my implementation of Google's geocoding API, which I am going to implement in SetEXIFData :