SetEXIFData 5.6
Tuesday, Jan 24 2017, 11:40
Apple, Mac OS X, Photo, REALstudio, software, Xojo
Permalink

A new version of
SetEXIFData
, my GUI for
exiftool by Phil Harvey
, is now available:
v5.6(24-january-2017)Fixed:
- Crash: When renaming with %x and none of the preferred sequence number-fields could be found.
- Preferences: Not being able to select any of the 'SubSecTime*'-fields when 'SubSecDateTimeOriginal' was present in the Dates-list.
Tiled Canal at the Palace of Queluz, Portugal
Tuesday, Jan 17 2017, 17:28
Art, History, Photo, Travel, Vacation
Permalink
Last year we went to visit Lisbon and its surrounding environment.
That's where we found the
Palace of Queluz
... what a history it has!
The most stunning part I found, was the tiled swimming pool - I think it must have been used as a swimming pool also, instead of being just a simple canal.
With the sun in my back, a made a series of photos of one side of the tiled interior and stitched them together with Photoshop to create a big 'panorama' so you can
enjoy this wall in its entirety from anywhere
.
Of course you really have to visit the palace to indulge in its beauty.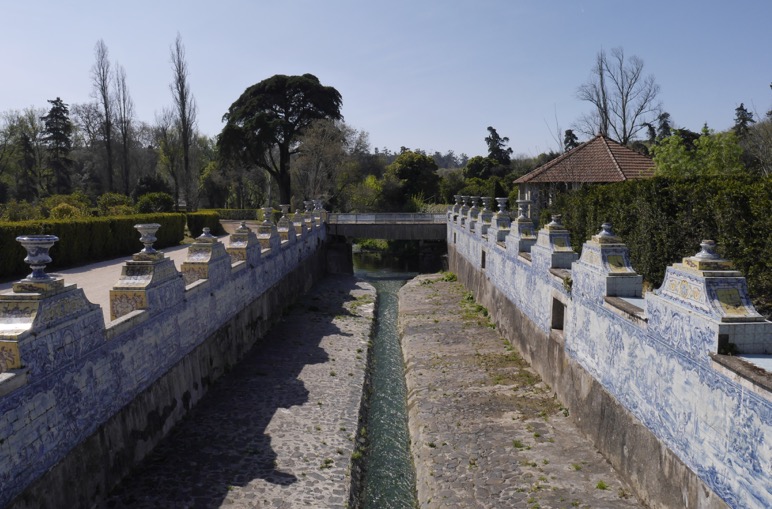 SetEXIFData 5.5
Tuesday, Jan 03 2017, 10:53
Apple, Mac OS X, Photo, REALstudio, software, Xojo
Permalink

A new version of
SetEXIFData
, my GUI for
exiftool by Phil Harvey
, is now available:
v5.5(02-january-2017)
Due to an updated code environment (latest
Xojo
and latest
MBS plugins
), a few changes were needed.
Removed:
- Show/Hide Info toolbar button is no more.
- The drawer-window used for previews is also gone. Xojo does not support these anymore.
New:
- Each preview now opens in its own window, which means you can now visually compare EXIF-data of multiple images at the same time. All preview windows are automatically closed when processing or starting over.
Fix:
- Increased the font size back to the system-default.
- The geo-tagging window doesn't close when 'Set startup' is clicked. Instead, the button is disabled. To set new startup coordinates, close and reopen the geo-tagging window.
- Implemented an improved map browser, which now uses webkit per default. It updates the map correctly while dragging or zooming.
Direct URL 3.3 #directurl #ssb #kioskbrowser #webbrowser #internet #xojo #website #browser
Sunday, Jan 01 2017, 15:00
Mac OS X, programming, REALstudio, software, Windows, Xojo
Permalink
A new version of
Direct URL
, my Site Specific Browser (SSB), is now available.
3.3
(01-january-2017)
Application Name in MacOS X
In MacOS X the application name, when running, was always 'Direct URL', regardless of the name of the website you gave the copy.
This has now been fixed. For Xojo coders who want to this too, see here for the solution:
https://forum.xojo.com/37244-rename-app-on-open/
I have left the 'About' and 'Quit' menu-items untouched, so these still show 'About Direct URL' and 'Quit Direct URL'.