Reflecterende achterruiten
Monday, Sep 21 2009, 23:25
Auto, Travel
Permalink
Een week of wat geleden reden we naar Arnhem en de hele weg zat er voor ons een auto waarvan de achterruit de zon recht in ons gezicht reflecteerde, waardoor je, zelfs met zonnebril, bijna geheel werd verblind. Op de foto was het al wat minder, maar toch nog fel genoeg om storend te zijn. Ik heb Postbus 51 gemaild en het is doorgegeven:
"
Via Postbus 51 hebben wij uw e-mail van 07 september jl. ontvangen. Hierin vraagt u of het ministerie iets kan doen aan verblindend zonlicht reflecterende achterruiten van personenauto's.
Ik stuur uw bericht ter informatie door aan het Team Verkeersveiligheid van het Directoraat-Generaal Mobiliteit.
"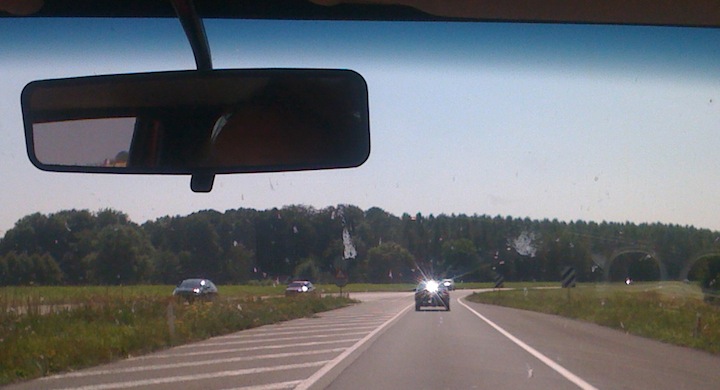 A new design
Monday, Jul 13 2009, 20:32
Event, programming, RapidWeaver
Permalink
Today I found it necessary to redesign my website.. I've been doing it for others all the time, and now it is my turn. And this is it! Of course I didn't design this cool look and feel - that's part RapidWeaver (
www.realmacsoftware.com
) and Elixer Graphics (
www.elixirgraphics.com
). Lot's of the nice effects and page-layouts are done with YourHead's (
www.yourhead.com
) and Loghound's (
www.loghound.com
) excellent plug-ins.
Update 2016: Loghound sold it's RapidWeaver plug-ins to YourHead Software, the creator of Stacks.