ICSviewer

A tool to convert .ics-files to table-format
Read the
Version History
This is a tool to convert an (exported) calender (.ics-file) into a table-formatted data grid, while calculating the hours you worked. I made it because I use iCal / Calendar / BusyCal for keeping track of worked hours, but these apps do not calculate those hours for you.
Tweet
When you start the app, you'll see this screen:
You can load an .ics-file by dragging and dropping it onto the grid or by choosing
Open...
from the File-menu. When you load a file, the following tags get processed: DTSTART, DTEND, SUMMARY, LOCATION, DESCRIPTION, CATEGORIES and ATTENDEEs. The start and end-times are split into two columns and the hours are calculated. Hours are rounded on whole and half hours.
Note: the tool does currently not honor the RRULE component.
You can broaden or narrow the display of the contents of the .ics-file by selecting from-to dates at the top of the screen.
You can hide or show columns by (de-)selecting the respective checkboxes and you can set the decimal point via the small pop-up menu. The file's contents are automatically reprocessed after each change in settings.
The settings are automatically saved inside a preferences file. When you start ICSviewer again, the last saved settings are reloaded.
Export to Numbers or Excel
1. Via the Export... button
This exports the data from the grid into a CSV file, which can be imported into Apple Numbers or Microsoft Excel.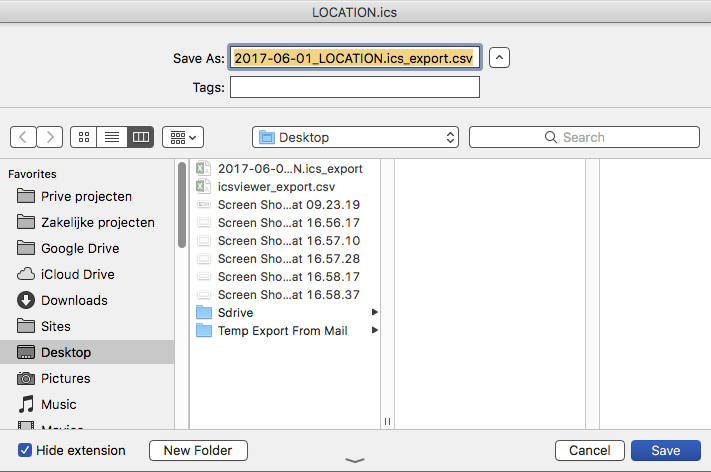 2. Via Copy & Paste
Click inside the grid, select all contents via CMD-A and copy them via CMD-C.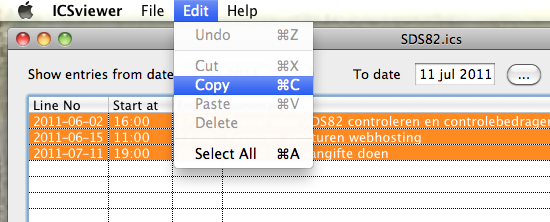 Then paste into an invoice or a spreadsheet. That's it.
---
---
Version history
v1
2011
Initial release
v2
2013
Fixes reading of Apple Calendar files.
v2.1
2013
Correctly reads event-data and multi-line descriptions.
v2.2
2014
Repaired crash when no DTEND: present in calendar event.
v2.3
2015
Corrected DTEND for All-Day Events.
v2.4
2015
Corrected multi-line SUMMARY.
v2.5
04-2016
- Sheet windows instead of modals,
- Link to new webpage,
- Better display of bigger text on Windows,
- 'Line No.' column now has a line number,
- 'Start at' and 'End at' columns now also include the date in ISO format for better sorting.
v2.6
05-2016
Added CATEGORIES.
v2.7
12-2016

From / To dates selection fixed.

From / To dates would take the chosen date, but with the current time as as start or endpoint, for example: 01-01-2016 09:10:34 to 13-12-2016 09:10:34
This would cause events on 01 jan 2016 earlier than 09:10 and events on 13 dec 2016 later then 09:10 not to show up.
From / To dates now use 00:00:00 as From time and 23:59:59 as To-time.



About-window at start

The About-window will not show itself automatically anymore when opening the app. The about window would pop-up each time you start the application until you donated; only then it would not pop-up anymore. Since this is a bit annoying, I moved the Paypal-button to the main window. When you donate, this button wil disappear.



New version-detection

As of v2.7, the app will check for a new new version and pop-up a notification dialog with a link
v2.8
02-2017
Now looks good on HiDPI (Retina) displays.
I dropped support for Linux.
v2.9
06-2017

What is new:

- New: Added an 'Export' feature, which exports to a .csv file.

- New: Added automatic save/restore of column checkboxes and decimal separator.

- New: Added column ATTENDEES.

What has changed:

- Moved LOCATION into its own column.

- No more rounding of hours. Hours are displayed with 2 decimals.

- Open and Save dialogs are now sheet windows on Mac OS X.

- When checking/unchecking columns or loading a new file, the chosen sort-column is now remembered.
---