ICSviewer 2.7

A tool to convert .ics-files to table-format
Read the
Version History
This is a tool to convert an (exported) calender (.ics-file) into a table-formatted data grid, while calculating the hours you worked. I made it because I use iCal / Calendar / BusyCal for keeping track of worked hours, but these apps do not calculate those hours for you.
Tweet
When you start the app, you'll see this screen:
You can load an .ics-file by dragging and dropping it onto the grid or by choosing
Open...
from the File-menu. When you load a file, the following tags get processed: DTSTART, DTEND, SUMMARY, LOCATION and DESCRIPTION. The start and end-times are split into two columns and the hours are calculated. Hours are rounded on whole and half hours.
Note: the tool does currently not honor the RRULE component.
You can broaden or narrow the display of the contents of the .ics-file by selecting from-to dates at the top of the screen.

You can hide or show columns by (de-)selecting the respective checkboxes and you can set the decimal point for half hours via the small pop-up menu. The file's contents are automatically reprocessed after each change in settings. After playing around, click inside the grid, select all contents via CMD-A and copy them via CMD-C.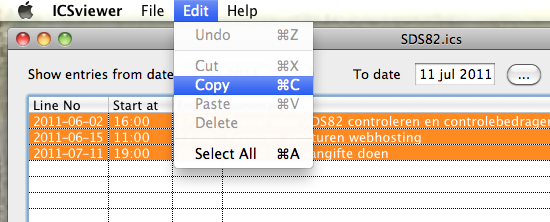 Then paste into an invoice or a spreadsheet. That's it.
---
---
Version history
v1
2011
Initial release
v2
2013
Fixes reading of Apple Calendar files.
v2.1
2013
Correctly reads event-data and multi-line descriptions.
v2.2
2014
Repaired crash when no DTEND: present in calendar event.
v2.3
2015
Corrected DTEND for All-Day Events.
v2.4
2015
Corrected multi-line SUMMARY.
v2.5
04-2016
- Sheet windows instead of modals,
- Link to new webpage,
- Better display of bigger text on Windows,
- 'Line No.' column now has a line number,
- 'Start at' and 'End at' columns now also include the date in ISO format for better sorting.
v2.6
05-2016
Added CATEGORIES.
v2.7
12-2016

From / To dates selection fixed.

From / To dates would take the chosen date, but with the current time as as start or endpoint, for example: 01-01-2016 09:10:34 to 13-12-2016 09:10:34
This would cause events on 01 jan 2016 earlier than 09:10 and events on 13 dec 2016 later then 09:10 not to show up.
From / To dates now use 00:00:00 as From time and 23:59:59 as To-time.



About-window at start

The About-window will not show itself automatically anymore when opening the app. The about window would pop-up each time you start the application until you donated; only then it would not pop-up anymore. Since this is a bit annoying, I moved the Paypal-button to the main window. When you donate, this button wil disappear.



New version-detection

As of v2.7, the app will check for a new new version and pop-up a notification dialog with a link
---