CSVviewer - Quicklook CSV files #utility #macos #linux #windows #csv #database
CSVviewer (formerly known as TABviewer) is a tool which shows the contents of text files, where data of each line is equally separated by either a semicolon, a comma or a tab-character.
You can
download it here
.

Tweet
---
Mijn FileMaker Pro toepassingen geactualiseerd
Ik heb
mijn FileMaker Pro 5 toepassingen
op verzoek geconverteerd naar recentere versies. U kunt de toepassingen nu downloaden voor alle versies vanaf versie 5. Voor elke compatibele versie heb ik een download-knop gemaakt, zoals in onderstaand voorbeeld wordt getoond: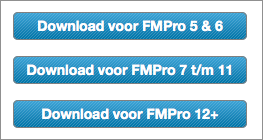 Tweet
---
See Older Posts...