Use OpenMeta to find files in OS X's Finder
Friday, Jul 23 2010, 14:14
Apple, Mac OS X, software
Permalink
The Finder supports OpenMeta in its search options. To have the possibility at hand, you must add the option to the menu first. Otherwise you have to select it first, every time you open a search in the Finder. To add Tags to the options menu, take the following steps:
1) Open a new finder window


2) Enter search mode.

The default is to search in the contents of files, but... when you hold down the
shift key
with the menu open, the
Find
item changes into
Find by Name...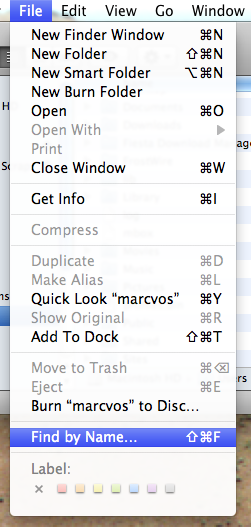 3) Open the 'Kind' menu by clicking on it and choose 'Other...'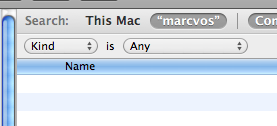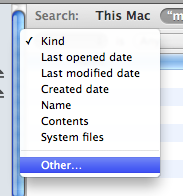 4) Tags

Scroll down or type 'meta' in the search field and look for the entry named 'Tags'. Check the box in the column 'In Menu' and click OK.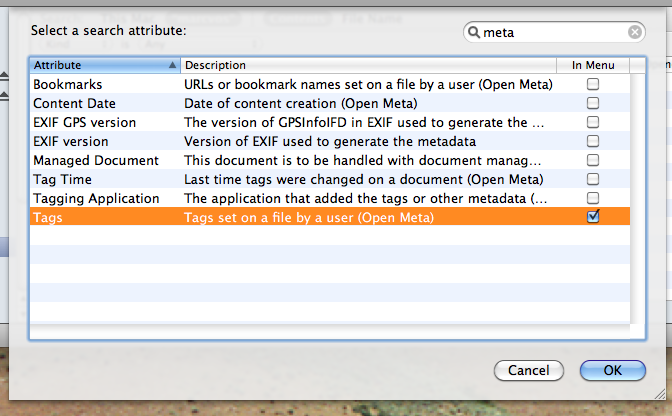 5) Search using Tags

When you leave the search field blank, 'Contents' or 'File Name' are not used in the search.
With Tags-search, you can enter multiple keywords, separated by a space.

If you want to use a command line tool to write metadata to files yourself, you can download an installer
right here
.
If you are looking for GUI clients,
look here
.
Inhoudsopgaven Advanced Photoshop
Thursday, Jul 22 2010, 10:03
books, Photo, software
Permalink
De inhoudsopgaven van Advanced Photoshop heb ik in Evernote samengebracht en zijn voor iedereen toegankelijk èn doorzoekbaar op tekst:
http://www.evernote.com/pub/macvos/inhoudadvancedphotoshop
Met dank aan Evernote die de PDF's and JPG's OCRt.
(zie ook de post m.b.t. iCreate voor een korte uitleg over hoe je kan zoeken in Evernote's publieke pagina's)

[De link naar Evernote bestaat niet meer - ik heb mijn abonnement opgezegd en zag geen reden om de oude inhoudsopgaven te bewaren]
Using FTP in Lasso
Saturday, Jul 10 2010, 22:04
AS400, FTP, ISeries, Lasso, Linux, Mac OS X, programming, Unix, Windows
Permalink
I created a page about the various ways to use the FTP protocol with
Lasso
, from and to various systems.
Find it here
. I have been trying to get it work the last few days and now that it does, I wanted to share what you can do. Of course there are probably installations where it all works out-of-the-box, but this time not with me.
Duinhotel Burgh Haamstede
Thursday, Jul 01 2010, 19:14
Hotel, Travel, Vacation
Permalink
This weekend we went to visit friends in
Zeeland
. We stayed at
Fletcher Duinhotel Burgh Haamstede
in Burgh-Haamstede. Rooms are good; pity that there's no refrigerator or fan (a fan lacking in all hotels I've ever been!);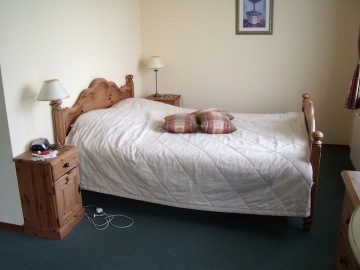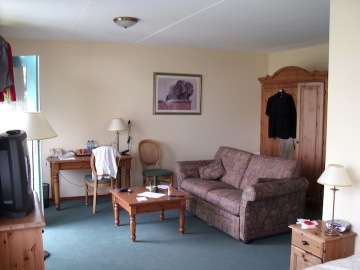 Breakfast and dinner are in a non-smoking area - the whole hotel is a non-smoking area, but you can also eat outside, where smoking is allowed.
When you are on vacation in Zeeland you use your bike and not your car. Thus, since we had the chance, instead of bringing our own bikes, we rented an e-bike, brand Rivel (which is Union, which is DBG), as part of the stay. This was a truly amazing experience. We have never used an e-bike before, but thought about it, so this was our chance! And this Rivel bike was really amazing. I always cycled at the maximum e-speed of 25 km/h without any much energy. These e-bikes are a disaster if you are trying to lose weight, but a real treat when cycling in the dunes or the hills. When you're staying at the hotel, you normally give the batteries to the receptionist, but if you argue enough that you're always late, (s)he'll hand over the chargers for the e-bike's batteries so you can charge them yourself.