Use Kaleidoscope with Coda

Kaleidoscope is a source comparison tool / Coda is an IDE
+
---
Kaleidoscope
is a cool source & image compare utility from
Sofa
.
Coda
is a cool IDE by
Panic
and uses the '
opendiff
' Unix-command to compare source versions via SVN.
Opendiff
starts Apple's
FileMerge
but we want to use
Kaleidoscope
!
Tweet
So, the first step to take is to setup the integration with SVN by following the steps shown by
Kaleidoscope
, when you choose
Integration...
from the
Kaleidoscope
menu.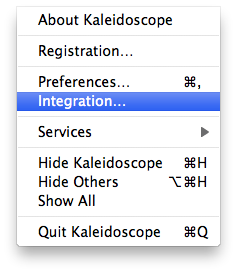 The next step is to replace
opendiff
. To do that, execute the following two commands:
sudo mv /usr/bin/opendiff /usr/bin/opendiff.apple
sudo ln -s `which ksdiff` /usr/bin/opendiff
Now, start Coda, right-click a source file, choose
Source Control->Compare with->Revision...

Pick a revision and now
Kaleidoscope
is used to compare both source files.
If you previously used Changes for source comparison, open
Terminal
and execute the following command to remove the
Changes
-plug-in from
Coda
:
rm -rf ~/Library/Application\ Support/Coda/Plug-ins/ChCoda.codaplugin