Verbruiksstatistiek van onze Volvo 240 Station
Tue, Aug 31 2010, 09:39
Auto, Travel
Permalink
Na talloze reparaties dacht ik dat ik maar weer eens een verbruiksstatistiekje bij moest gaan houden om te kijken of de reparaties de investering wel waard zijn geweest. En jawel, het ding, een Volvo 240 Station uit 1991, haalt nu 1 kilometer per liter meer! Dat levert per jaar een besparing op van rond de 190 euro bij 12.000 km/jaar! Na, dan moet ik de auto nog 6 jaar blijven rijden....
De auto is deze tijd in gebruik geweest voor woon/werk, hond uit laten, weekendtrips, etc.. De snelheid was wisselend lager, gelijk of hoger dan de maximaal toegestane.
Hieronder volgen de gegevens met grafiek, waarin duidelijk wordt dat het geen reet uitmaakt wat je tankt en wanneer je tankt en hoe je rijdt met deze auto - het verbruik varieert nauwelijks.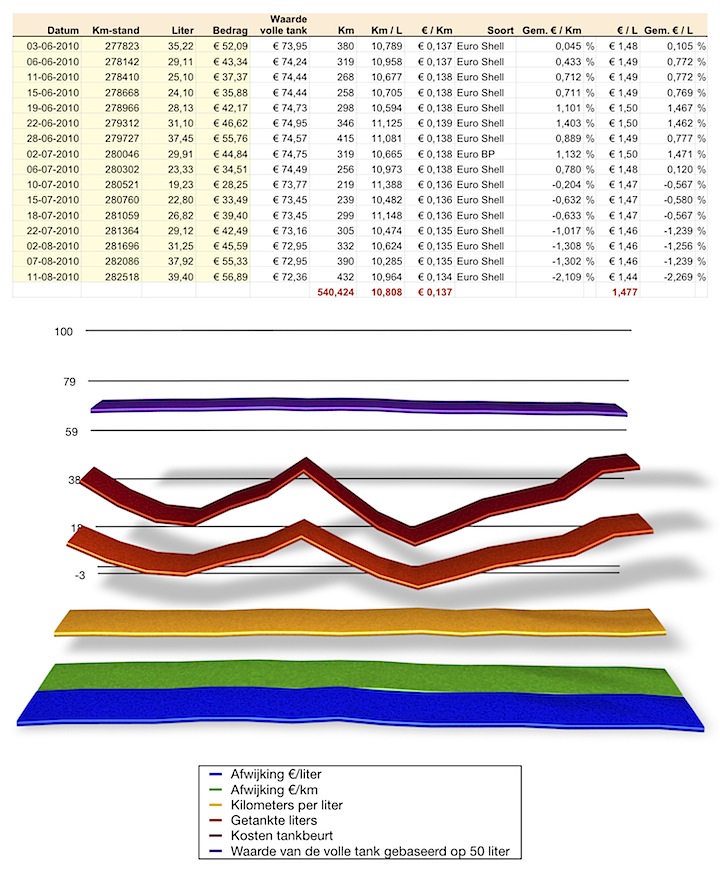 De rode getallen onderaan de kolommen zijn gemiddelden van de waarden in de kolom. De kosten per kilometer zijn gebaseerd op de waarde van de volle tank. De waarde van een volle tank bestaat namelijk uit de restwaarde van de nog aanwezige benzine + de nieuwwaarde van de net getankte benzine. Uitgaande van het gemiddelde aantal kilometers wat uit een tank gaat, heb je zo ook steeds een gemiddelde prijs per liter. Daar kan je dan weer de afwijkingen van meten met de werkelijke prijs. Hetzelfde is gedaan met de kosten per kilometer.