Postpone Selling Photo's / Uitstellen Foto Verkoop
Mon, Mar 07 2016, 23:18
Money, Photo
Permalink
Sinds het verkopen van mijn foto's niet mijn primaire werk gaat worden, heb ik de foto-bestel pagina vervangen door een
Flickr diashow van mijn foto-stream
.
Mocht u alsnog foto's willen bestellen of laten maken, neem dan gelijk contact met mij op (mijn e-mail adres vindt u onderaan elke pagina).
Since selling my photo's is not becoming my primary business, I replaced the photo-ordering page with a
Flickr slideshow of my photo stream
.
SwitchAds
Wed, Dec 10 2014, 14:36
Money
Permalink
Today I implemented my new
SwitchAds
account on this page and the sitemap page. It works by placing an ad, like
Google AdSense
, but if no bidder for your space was found, SwitchAds places your
asynchronous
Google AdSense code in that space.
Sounds great, now let's wait and see …
Payleven mobiele pin-reader
Fri, Oct 03 2014, 11:32
iPhone, Money
Permalink
Sinds kort is er een prachtig mobiel pin-apparaat op de markt dat via bluetooth met je iPhone werkt:
Payleven
.
Op je iPhone draait de transactie-software terwijl het pin-apparaat uitsluitend de software heeft om de kaart te lezen, PIN te verifiëren en de toetsenbord-input naar de iPhone door te sturen.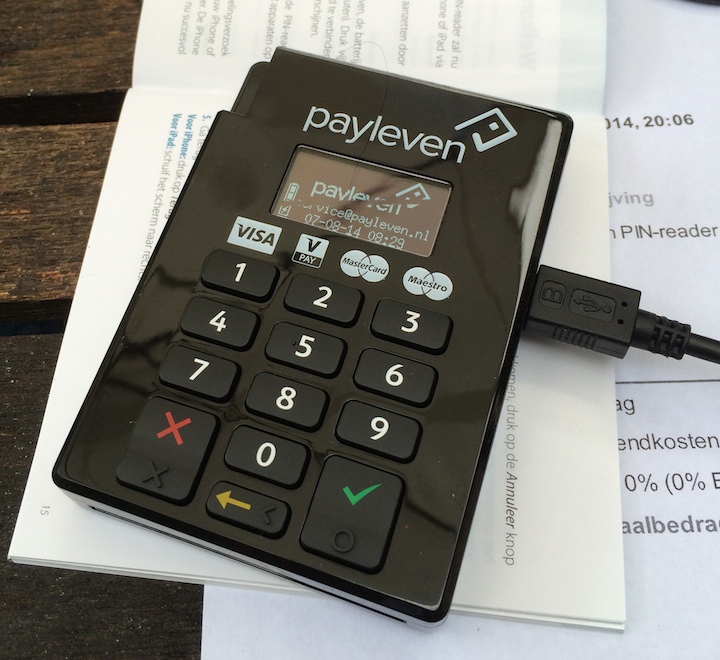 Werkt prima!
Wel zorgen dat:
het apparaat is opgeladen,
je iPhone is opgeladen,
je een opgeladen accu meeneemt voor je iPhone,
er een internet-verbinding is (WiFi/WLAN of 3G/4G; GPRS gaat nog wel, is alleen heel erg traag).