Use HTTPS with 'localhost' on macOS Big Sur #macos #ssl #https #localhost
Tuesday, Oct 26 2021, 15:10
Mac, macOS, programming, Webserver
Permalink
I needed local HTTPS for app-development, because '
Cleartext HTTP traffic to localuser not permitted
'.
My local website development domain is called '
localuser
' instead of using '
localhost
'.
So I wrote down what to do and made it into a webpage:
Use HTTPS with localhost on macOS 11.6 Big Sur or higher
When you've followed the steps, you get this: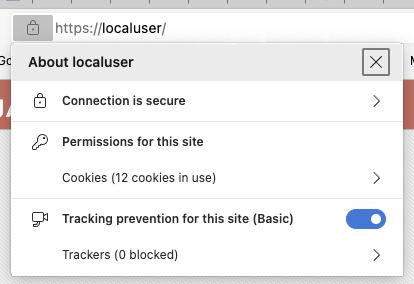 Apple Mail to Markdown #apple #mail #email #markdown #applescript #joplin #backup #cloudstorage
Monday, Mar 01 2021, 10:20
Apple, AppleScript, Email, Mac OS X, macOS, programming, software
Permalink


Import your Apple Mail emails into Joplin with my
Send E-Mail to Markdown
script:.
Feel free to improve it!
Direct URL 3.4 #directurl #ssb #kioskbrowser #webbrowser #internet #xojo #website #browser
Friday, Feb 26 2021, 11:13
Mac OS X, macOS, programming, software, Windows, Xojo
Permalink

A new version of
Direct URL
, my Site Specific Browser (SSB), is now available.
v3.4
(26-february-2021)

The application has been compiled to run in 64bit mode on macOS Intel / ARM as a Universal Binary and 64bit mode in Windows.

The 32bit versions are now obsolete.